Brief History of the Auckland Branch
Page update 14-01-18
The Cactus & Succulent Society of New Zealand Incorporated commenced in Auckland in November 1947 with the first "Newsletter" produced on 27 November 1947 by Phyllis Bruce. This Newsletter has gone on to become our national New Zealand Cactus and Succulent Journal which is produced quarterly.
As other branches opened throughout the country the Auckland area became the National Body and an Official Auckland Branch did not originate until May 1950.
The National Body is now made of representatives from all of the branches, so the AGM and Annual Conference is organised by a different branch each year, in different parts of the country.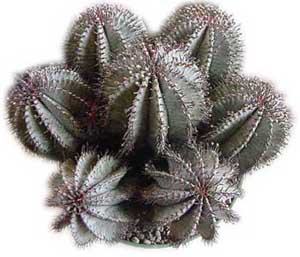 A gorgeous Euphorbia Hybrid E.horrida x E.polygona 'Snowflake'
shown at the Auckland Cactus & Succulent Society Show Nov. 2000
The Auckland Branch has grown and declined with the general popularity of our plants and is now the largest Branch in the country ( 76 paid up members at June 2017 ). Our plants are still enjoying good popularity even though membership has fallen in the last couple of years. With the population increasingly wanting easy care gardens, interest can only increase again. Visitors to our monthly meetings are very welcome and may enjoy our large monthly sales table.